Peat is an organic soil that forms when partially decomposed plants accumulate in overgrown lakes or waterlogged land. Peat is formed in marshes and bogs. The difference between the two is that the bogs only get water from precipitation, while marshes also have access to groundwater.

Peat replaces dirt in BetterGeo.
Peat is used to create peat blocks and mulch.
Peat can also be used as fuel. To be used as fuel it needs to be dried first, which is done by putting a block of peat in the workbench.
Sphagnum grows on peat.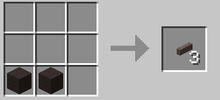 Ad blocker interference detected!
Wikia is a free-to-use site that makes money from advertising. We have a modified experience for viewers using ad blockers

Wikia is not accessible if you've made further modifications. Remove the custom ad blocker rule(s) and the page will load as expected.